2015 Black & Gold Affaire – March 14th!!
You're Invited!  The 2015 Black & Gold Affaire will be held on Saturday March 14, 2015 at the Palos Verdes Golf Club.  Register today by completing the 2015 Black & Gold Reservation Form. Please don't forget to print and mail it with your payment!  Click here for online reservation and payment.
Become a Black & Gold Sponsor!  or become a Black & Gold Corporate Sponsor!  Your sponsorship helps support over 60 athletic teams, facility and field upgrades, trainers, team equipment, physical education, equipment for the new Peninsula weight room used by many teams, and more!
All families participating in Peninsula athletics are asked to please sponsor the event or make an Auction Donation to support our teams.
Auction items will be placed in the Black & Gold online auction opening in late February 2015, or in the silent or live auctions at the event on March 14th.  No item is too big or too small!
SPONSORS:
Champion

 $5,000-$9,999
All Star

$2,500-$4,999

*** Brigante, Cameron, Watters & Strong, LLP ***
*** Zach Retodo *** 
Varsity

$1,000-$2,499

* Drs. David Bernstein & Gloria Bertucci *
* Lifetouch – National School Studios *
* Paula & Allen Boothe *
* Schmalzried Family *
* Kuni Takeda Family *
Junior Varsity

$600-$999

PSS Imaging Inc.
Frosh/Soph

$300-$599

Athens Services
Carolyn & Randy Bumatay
Girls Volleyball
Leo Family
Merola Family
Richard & Julia Rosas
Tak & Kerry Yoshikawa
Zane Family 
Panther Patron

$100-$299

Sherry Black
Jeff & Joan Bogosian
Robert & Gloria Clark
Crow Family
Dalton Family
DiMatteo Family
Easton Family
Kirk & Cindy Foster
Lindsey & Kim Levine
Nicole Look
Maarek Family
Laura McFarland & Luczak Family
Francisco & Sandra Miramontes
Tom & Laura Priest
Reece Family
Ronald Seiter
VanBoxtel Family
Lisa Watanabe
Webb Family

 Above: A Black & Gold Affaire 2015 Sponsorship List as of 24-Jan-2015

New this year: Panther Blankets and Shopping Online with the Athletic Booster Club

Peninsula Athletics blankets (60″x80″ as pictured below) from the Athletic Booster Club are available now.  Quantities are limited, so click here to order yours online today!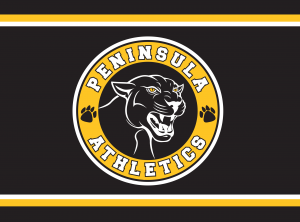 Purpose of the ABC
To financially support Peninsula High School's Athletic Program
To fund our athletic trainers
To pay for upgrades and maintenance of our sports' venues
To help our athletes be safe and competitive in their sport
To communicate our sports news to Peninsula parents through our website
To promote our teams and athletes ABC Athletic Fact Sheet for Freshman Families [link to PDF]
ABC-Sponsored Events
September 18:  Back to School Night – come  meet members and find Panther merchandise at the ABC tables
September 19: The All-Sports Kick-off Party – all are welcome!
December 5 (Friday): Holiday Boutique – PVPHS in the Gym
January: Sports Presentations for 8th graders (held at Pen HS)
March 14: A Black & Gold Affaire
April 15 & 17: Information Sessions for Incoming Panther Families
May 2015: The Look Fashion Show
May 2015: The Athlete of the Year Award Banquet
Monthly meetings are held on the second Wednesday of each month at 7:00 PM in the College & Career Center (CCC). Everyone is welcome! Come join the "Club!"
Support Peninsula High Athletics when you shop at Amazon.com! 
Just click the icon to the left and shop. When you complete a purchase using Amazon from this ABC link, part of the sales will be donated to the Athletic Booster Club!  [Important Note: In the event that you leave the Amazon website before completing your purchase, just return through this link again to finalize your purchases to assure that the donation is made to the Athletic Booster Club.]