Holiday Boutique: shop and support PVPHS Athletics!
SAVE the DATE: Holiday Boutique December 5th
The annual Holiday Boutique will take place on Friday, December 5th at PVPHS.  Please mark your calendars and join the ABC and PVPHS Community in the High School Gymnasium between 11:00 AM and 5:30 PM for some holiday shopping. You will have over 40 display tables of items to choose from (click here for a full list of participating vendors, school organizations, and merchandise available).  A percentage of all Holiday Boutique proceeds will be donated to the Athletic Booster Club.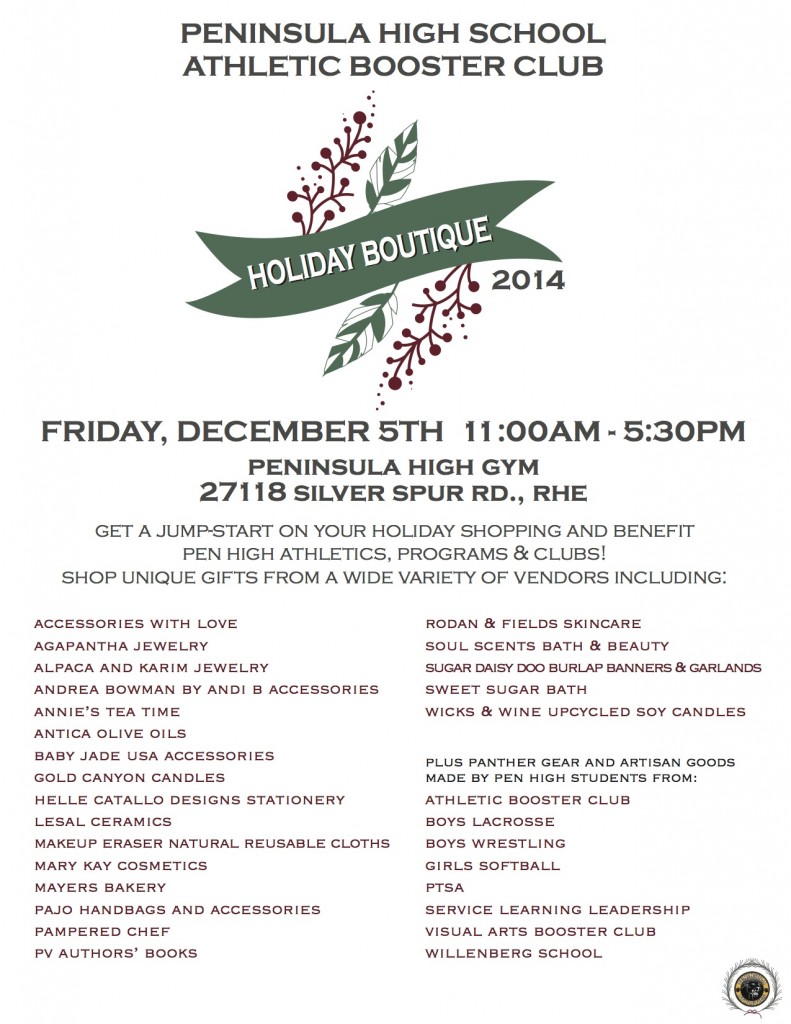 NEW for this holiday season – Peninsula Athletics blankets (60″x80″ as pictured below) from the Athletic Booster Club, and many more Panther Spirit items from the ABC and PTSA!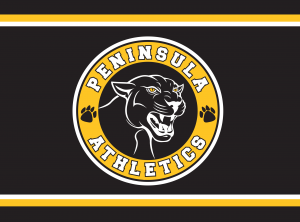 KICK-OFF PARTY – A big success, thanks for your support!
GO PANTHER PARENTS!
WELCOME MESSAGE FROM OUR ABC CO-PRESIDENTS
The Athletic Booster Club [ABC] welcomes all returning and incoming families to our Panther Pride and invites you to join us for our first meeting of the year on Wednesday, September 10th in the College and Career Center at 7:00 p.m.The mission of the Athletic Booster Club is to support the students and all those who benefit from the athletic facilities at Peninsula High School. The ABC Board Members work closely with the PVPHS Principal, Athletic Director and Administration to prioritize the allocation of monies raised to support: athletic trainers, capital improvements to athletic facilities, new scoreboards, concession stands, expanded trainer and equipment rooms, track, field and court maintenance, tuff sheds for team storage, to name a few.
In addition to our rigorous academic programs which rank among the top in the country, Peninsula is fortunate to have a vibrant, active and engaged athletic program supported by our Panther community. PVPHS offers more than 26 sports and over 60 Panther teams that provide our students the opportunity to complement their academic activities with athletic experiences that can create wonderful memories, build character and create lifelong friendships.
We encourage you to show your support for the Athletic Booster Club and become a member by selecting the Membership Info button and filling out the membership pdf form or online form.  Your donations are 100% tax-deductible as the ABC operates as a 501(c)3 non-profit organization solely to support Peninsula athletics.
In addition to your financial support, please join us at our first ABC meeting to learn more about how you can get involved and engaged with this fantastic group of parents, staff, alumni and friends who are excited to raise the funds necessary to support and improve athletics at Peninsula High School.
Go Panthers!
Arch & Paige Asawa
PVPHS Athletic Booster Club Co-Presidents
ABC Athletic Fact Sheet for Freshman Families [link to PDF]
Purpose of the ABC
To financially support Peninsula High School's Athletic Program
To fund our athletic trainers
To pay for upgrades and maintenance of our sports' venues
To help our athletes be safe and competitive in their sport
To communicate our sports news to Peninsula parents through our website
To promote our teams and athletes
ABC-Sponsored Events
September 18:  Back to School Night – come  meet members and find Panther merchandise at the ABC tables
September 19: The All-Sports Kick-off Party – all are welcome!
December 5 (Friday): Holiday Boutique – PVPHS in the Gym
January: Sports Presentations for 8th graders (held at Pen HS)
March 14: A Black & Gold Affaire
April 15 & 17: Information Sessions for Incoming Panther Families
May 2015: The Look Fashion Show
May 2015: The Athlete of the Year Award Banquet
Monthly meetings are held on the second Wednesday of each month at 7:00 PM in the College & Career Center (CCC). Everyone is welcome! Come join the "Club!"
Support Peninsula High Athletics when you shop at Amazon.com! 
Just click the icon to the left and shop. When you complete a purchase using Amazon from this ABC link, part of the sales will be donated to the Athletic Booster Club!  [Important Note: In the event that you leave the Amazon website before completing your purchase, just return through this link again to finalize your purchases to assure that the donation is made to the Athletic Booster Club.]